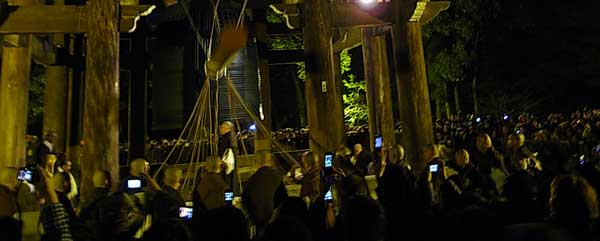 (This is a past event)
Welcoming a new year is the biggest event in Japan. It's a tradition that we visit a Buddhist temple on the New Year's Eve and visit a Shinto Shrine during the first three days of January. In Kyoto, Chion-in Temple and Yasaka Shrine are popular places to celebrate the New Year's Eve with some religious rituals.
There is no fireworks displays and parties on streets, but people visit a temple to purify themselves before the year ends. Each temple has a big bronze bell and they strike it 108 times around midnight. Chion-in's bell is one of the biggest in Japan and struck by 17 monks. You should start waiting in line before 11:30 to see the bell rung at 12 o'clock.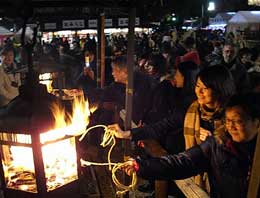 After the Chion-in Temple, you walk to Yasaka Shrine through Maruyama Park. It is a very popular Shinto Shrine for 'Hatsu Mode' or the first visit to a shrine of the year. Many people get a cord of dried plant which is lit at the end by holy flame from a lantern at the shrine and bring it back home to cook the New Year's soup hoping a good year. Public transport operates all night on the New Year's Eve. But you can't carry the lit cord in trains and buses.
Besides two sites above, there are many temples and shrines which draw thousands of people on New Year's day. The most popular sites in Kansai are Fushimi Inari (Kyoto), Sumiyoshi Taisha (Osaka) and Ikuta Jinja (Kobe). It's customary for Japanese people to take a week-long vacation centering on January 1st, and families and relatives get together for a celebration.
Map