Kyoto's only one professional soccer club, 'Kyoto Sanga' has been in the second division for three seasons, and Gamba Osaka which used to be a very good team in the first, also demoted to the second. This season, Cerezo Osaka is only play in the first in Kansai area. Gamba has the big stadium and lots of enthusiastic fans but the location is far from city, whereas Sanga attracts fewer people but the stadium is easy to access.
The first division's 18 clubs and the second's 20 clubs have matches from March to early December. Games are held on weekends, Saturday or Sunday, day or night. To know their home game, visit Gamba's website (English) http://www.gamba-osaka.net/en/ on the ticket selling page, and Sanga's website (Japanese) http://www.sanga-fc.jp/games/ (see the colored row in the table).
Soccer is the most popular sport in Japan along with baseball. But it's young as a professional sport and many good Japanese players always look for a better place in some European league. It's a shame that we can't see them in Japan, but we are still excited to see new star players coming up.
There are two other first-division clubs in Kansai, Cerezo Osaka and Vissel Kobe, based respectively in south Osaka and north Kobe. Japanese soccer has been more developed as a sport in the eastern region near Tokyo, and the western clubs followed behind. Therefore we are more excited to see east-west matches rather than those between three clubs in Kansai.
Tickets
Price ranges from 2,000 to 5,000 yen for adult (half price for children under 13 years old). Tickets are usually available at the stadium if you don't care the seat section. Advance tickets are about 500 yen cheaper and on sale at the major convenience store chain in Japan, and also on their websites.
Access to the stadium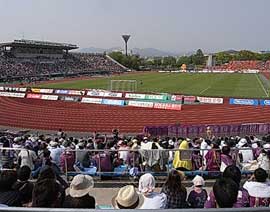 Kyoto Sanga (Nishikyogoku Stadium) : Easiest and fastest way is to take the Hankyu train. It's only four stations (7minutes) from the city's very center Kawaramachi. City Bus has the station 'Nishikyogoku Undo Koen Mae' in the north front of the stadium. You can get there by the one-day pass from Kyoto station or Kawaramachi.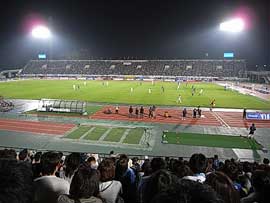 Gamba Osaka (Bampaku Kinen Stadium) : When you take the Osaka Monorail, you won't miss the Bampaku Kinen Koen station for transfer, because you see many other soccer fans in the train. The station near the stadium is Koen Higashiguchi. Otherwise JR Pass users should take the JR train to Ibaraki station and get the shuttle bus which is run only on the game's day.
Map