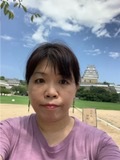 Hello! My name is Noriko Onishi. I newly joined VisitKansai from 2019 Sept.
I'm an office worker in Himeji.
Welcome to Japan! I really hope your stay in Japan could be so cozy and exciting!!
Let me hear your interests in detail,then I'll try my best to help you to en
joy new experiences!
FYI, my interests are visiting museums, music(some of were sung in "glee"),waiking (In beautiful park,temple,etc),drawing card with calligraphy, SNOOPY and Gundam the origin, and so on.