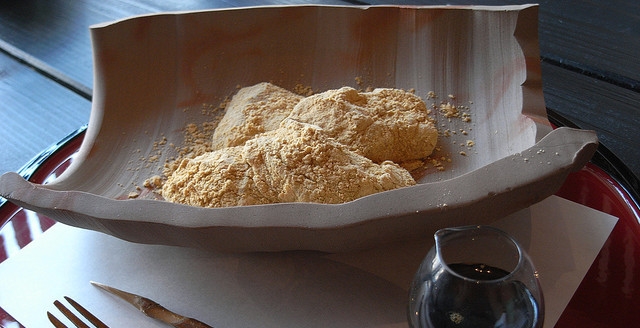 Warabimochi is a kind of Japanese sweet made of bracken starch. It is usually coated with toasted soybean flour and it has a jelly-like chewy texture. It is especially popular during summer season. You can try this at a Japanese cafe or you can buy at Japanese sweet shop. Why don't you try this?
Our recommendable Japanese cafes in Kyoto famous for Warabimochi sweet are as follows:
---
Gion Tokuya
Located in Hanamikoji street, famous Kyoto geisha district of Gione. What they serve "Hon Warabimochi" (a jelly-like dough confection made from bracken starch), is created using very fine-grain starch and wasanbon sugar hand-kneaded to perfection, and served with golden brown kinako and brown sugar syrup.
Address: Gion-machi Minamigawa, Higashiyama-ku, Kyoto
Website: http://gion-tokuya.jp

---
Kodaiji Rakushou
A lovely place in Kyoto. It has a 100-year-old miniature garden with a pond that's home to some of the largest and most colorful carp you have ever seen, some of which are 20 years old and winners of the many medals displayed in the back room. In summer, tea or traditional desserts, and refresh yourself with views of the small but beautiful garden from one of the tables or from the back tatami room.
Address: 516 Washiocho, Higashiyama-ku, Kyoto
Website: http://www.rakusyou.co.jp/

---
Bunnosuke Jaya
You can enjoy hot or cold amazake and portion of warabi-mochi dumplings.
Address: 373 Yasaka Kami-machi, Shimogawara-dori Higashi-iru, Higashiyama-ku, Kyoto

---
Yukei Salon de Thé
This tea salon is owned by Tawaraya inn, one of the famous Japanese style hotel. A serene spot with classical music and a moss garden. It's more modern than you might expect from the historic inn. In the converted machiya building in the18th century, alls are art-gallery white, the furniture is Danish and the shelves hold art tomes on subjects like Eames furniture and graffiti. The drinks (green tea, earl grey, coffee) are first class.
Address: Aneyakoji-dori Fuya-cho-higashi-iru Kitagawa, Nakagyo-ku, Kyoto
Website: http://tabelog.com/kyoto/A2601/A260202/26005378/