Bunraku is a classic theatrical art using puppets. A half life-sized puppet with elaborate costume is manipulated by three puppeteers to make a fluid move and express amazingly various emotions of a character. Osaka is home to the Bunraku tradition and proud to have the National Bunraku Theater. If you travel in Osaka during a period of performance, why not go to the theater?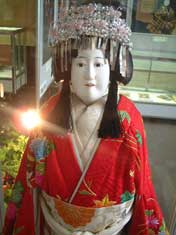 Besides puppeteers, narrator(s) who tells the story and every words of characters, and shamisen player(s) who play the back ground music, sit at the side stage and they make a perfect synchronized performance. The creation of this unique style combining narrative recitation, shamisen music, and puppetry dates back to the 17th century and has been handed down by heredity and apprentice system.
Bunraku scripts are very classic, stage sets are simple, and performers are not very popular. By contrast, another traditional performance Kabuki has gorgeous stage and widely recognized performers. That's why Bunraku is less popular than Kabuki. However, the Bunraku performances are highly refined and attract audience with the puppets' rich expressions, and was designated a World Intangible Heritage by UNESCO in 2003.
So Osaka Mayor Hashimoto made a controversial decision last year that he cuts subsidies to Bunraku if it did't have 100,000 audiences through the year. And they successfully drew more than that. But the issue made us recognize how difficult it is to preserve the tradition without using public money.
Bunraku stages are normally scheduled three periods in the spring, autumn and winter season. The Spring performance of 2014 will be held from April 5th through 27th. Since one play lasts very long, a busy traveler can enter at an intermission. You can also buy a ticket for a certain part of the play at a reduced price, but it's sold only on the day if there are empty seats. The theater has the capacity of 753 seats. The main audience is 40 to 60 year-old Japanese. They have audio guide device which explains the plot and other useful information to understand the story.
Located in the entertainment district of Osaka city, there are a variety of restaurants and bars after enjoying Bunraku. In old times, this area, Dotonbori, had more theaters so it's been common for people to eat out after a theater.
National Bunraku Theater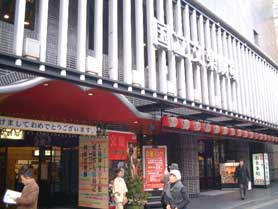 How to get there : Walk out from the number seven exit of subway's Nippon-bashi station, and it is in front of you.
Spring performance 2014 : April 5th through 27th. The morning stage starts at 10:30 a.m. and the evening stage 4 p.m. They are different plays and each lasts about five hours. Ticket is 6,000 yen (2nd class:2,400 yen, 3rd:1,500 yen).
Map