Kinkakuji Temple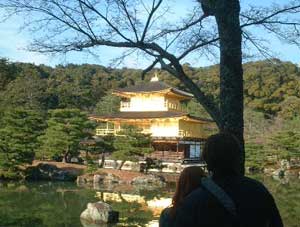 Kinkakuji (金閣寺) temple is the best known tourist site in Kyoto along with Kiyomizu temple.  The central building's wall are covered with gold paper and glitters in the green garden of trees and pond. It was first built in 1397 as a part of Kitayama Palace of Ashikaga Shogun and converted to the  Buddhist temple after his death.
Influenced both by the traditional aristocracy and Samurai's rising power, the building is the combination of different architectural style:  Shinden style associated with Heian-period nobility on the first floor, and the Samurai worrier  style on the second, and the Buddha hall style on the third.
The famous gold leaf can be seen on the second and third floor's wall. Ashikaga Shogun showed his power to the nation and country's  richness to China by getting his administration center gilded.  The building you see now is the reconstruction in 1955 after it was burnt down by a young monk in 1950. You can only see and take pictures of the building. Inside is not accessible although they are  also golden rooms.
Kinkakuji is about 40 minutes from Kyoto Station to the north by bus. It's faster if you take the subway to Kitaoji station and change to a bus going westward.
Admission : Y400 (Y300 for child under age 15) Hours : 9 a.m. to 5 p.m, no closing day.
Ryoanji Temple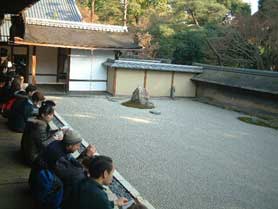 Another Zen Buddhist temple Ryoanji (龍安寺) which is famous for the rock garden  is located about 20 minutes walk away from Kinkakuji. You can walk between these two temples, but there are also buses running the same way in every 15 to 20 minutes.
The temple buildings have been destroyed by fires but the garden remain original of 15 century. It is the most simple example of Zen garden consisting of fifteen rocks and white gravels. To see the garden as it should calm you and lead you to meditation, it's recommended to visit in less crowded time, preferably in early morning.
The garden is very famous but the temple is not listed on the "Five most important Zen temples" in Kyoto. If you would like to have a quick look at any Zen garden in Kyoto, Keninji temple is the easiest to access in the city center.
Admission : Y500 (Y300 for child under age 15) Hours : 8 a.m. to 5 p.m (8:30 a.m. to 4:30 p.m from December to February), no closing day. Website : http://www.ryoanji.jp/
Map