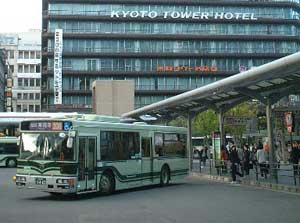 The City bus is the most commonly used transportation in Kyoto. It's convenient for the locals to commute and for tourist to visit almost all major temples and shrines in the city. With the One-day Pass which is only 500 yen, you can take buses as many times as you need in a day. Without the Pass, you pay 230 yen each time.
Preparations : The bus  route map is necessary to find the line you are taking from a hundred or more buses. It's available at their ticket counters of the major City subway stations, or PDF can be download at their website. The Pass is available from a driver on a bus. But it doesn't come with a map and sometimes a driver sells out all Passes of the day.
How to use a bus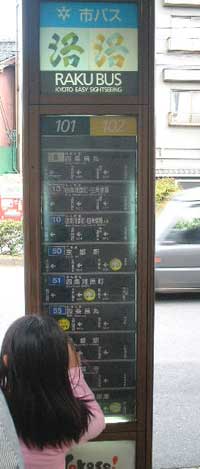 The City Bus's all-day pass is only valid for the City Bus, which are mostly green colored. Other private buses are not spotted often and they usually have red line. To use the Pass for the first time of the day, you put it through the printer beside the driver as you get off to mark the date of use. Then you just show a driver the Pass when using for the second time. Major bus stations have signs noticing an approach of the next bus.
Useful lines
Buses of three digits number are normally faster then two digits and sometimes skip minor stations. Besides, RAKU BUS are particularly convenient for tourists to visit popular temples in the city. The following three lines are most frequently used by tourists.
#100 Kyoto Station – Sanjusangen-do Temple – Kiyomizu-dera Temple – Ginkakuji Temple – Nanzenji Temple
#101 Kyoto Station – Nijo-jo Castle – Kinkakuji Temple
#102 Ginkakuji Temple – Kinkakuji Temple
Lines not very useful
#11 and #28 – Connecting Arashiyama district to Shijo Kawaramachi and Kyoto station respectively- run the long ways. After April 2014, the One-day Pass covers the Arashiyama district, but it's too far to use the Bus. You should take JR or Randen railway to get to Arashiyama. If you go there from Kinkakuji temple or Ryoanji, the buses #59 and #11, changing at the Yamagoe-naka-cho, are not bad choice.
Some people don't take any buses to get to Kinkakuji temple because it's also located far northwest of the city center. For example, it takes about 50 minutes by the line #12 from Kinkakuji to Gion. To use subway and Hankyu Railway are worth 200 yen for more efficient transportation when you go directly between Kinakuji and the city center or Kyoto station.
Major lines map
Balloons show the popular tourist sites. Blue zone is out of the flat fare area which requires additional 150 to 250 yen to the All Day Pass validity.
Alternatives
People tend not to think about using taxis and trains when they have the One-day Pass. But a bus is not always the best way. When you have to wait the next bus for more than 15 minutes at a station, or on a day the traffic is busy for tourist season, consider the other transportation options. You may have heard that a taxi in Japan costs too much, but they are about 620 yen for the first 2km. Why don't you share the ride with someone waiting for the same bus? A normal taxi accommodates four passengers. Here's an example that it's worth using taxi.
Ryoanji Temple – At the Kinkakuji-mae station, there are always many people waiting for a bus going to the Ryoanji Temple which is about 1.5km away. Buses between these two temples are not very frequent. To take a taxi by four people, it doesn't cost as much as 200 yen for each. Also for the way back, taking taxi from Ryoanji Temple to Kitano Hakubai-cho intersection where so many bus lines are available is a good idea. If you head for the Arashiyama district from Ryoanji, walk to the Randen's Ryoanji station, which is a fun walk, and get the Randen to Arashiyama.
Wi-Fi at stations
Wi-Fi internet connection is available for free at major Bus stations. Check https://www.visitkansai.com/uncategorized/free-wi-fi/
Practical help by our Free Guide
Based on the information hereabove and further life experience as local people, our Free Guide can help you use city bus and other public transport network practically and efficiently. If you like our help, please request our free guide.