Most visitors flock to the ubiquitous malls and stalls found around the main tourist traps. Here, the usual selection of postcards, keyrings, and plastic Samurai swords are found in abundance. Such items are cheap, convenient and, although they no doubt serve their purpose, a little tacky.
For that more authentic souvenir, it probably pays to delve a little deeper into Osaka's local shopping districts. Although well off the regular tourist trails, these areas are much more genuine and representative of the down-to-earth Kansai character. They are fascinating places in which to browse, and there is real enjoyment in exploring the narrow, bustling alleyways. The shops here tend to be specialist in nature, sell wholesale, and cater to local businesses. However, it is still possible to purchase individual items.
Two districts we particularly recommend are the areas around Doguya-suji and Matsuyamachi-suji streets.
Doguya-suji street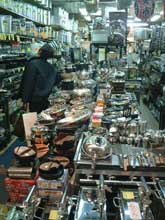 Established in 1882, this narrow, pedestrianized street has around 40 shops which sell cooking implements to local restaurants. Its products are aimed at professionals (for example, big pan sinks, or tables) but there are also some smaller, cheaper items like chopsticks, dishes, noren (Japanese room divider cloth), or plastic and glass food samples (for the ubiquitous glass case restaurant displays). This latter item, although a little pricy, makes for a particularly special gift. Look out for life-like models of local speciality foods okonomiyaki and tako-yaki.
If you decide to take a real Osakan cooking device back home, the Takoyaki fryer mould is probably the best choice (although be mindful of it's weight!).
Location : Close to Namba station. From Namba Takashimaya Department Store, go one block east on Nankai-dori, then turn right and walk for another block. The following narrow street with roof is the Doguya-suji.
Website : http://www.doguyasuji.or.jp/(Japanese)
Matchamachi-suji street
This street also has a very long history. Catering mainly to wholesale merchants, it sells Japanese dolls, toys, papers, fireworks, and traditional sweets. The shops are, however, also open to regular customers. Since goods sold here tend to be traditional and old-fashioned, the street is not as busy as it once was. Despite this, it remains an eclectic place and it retains a certain musky, decrepit charm. You may also find items which are unavailable elsewhere.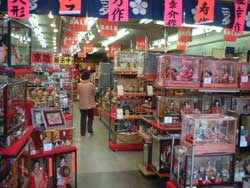 During early spring, the doll shops along Matchamachi-suji display beautiful "hina ningyo" dolls. These are displayed to celebrate Girl's day on Mach 3rd. In Japan, families with daughters display hina ningyo dolls in the hope that their daughters will grow healthy and beautiful. Seen up close, the figures' lovely designs and intricate details become apparent. The dolls generally retail upwards of 30,000 yen, but you can also find similar, less expensive artwork. One such shop is http://www.kyuhodo.co.jp/souvenirs/
Location :Walk north from subway station Matsuya-machi on the Nagahori Tsurumiryokuchi Line (lime green line).
Website : http://www.matuyamati.com/ (Japanese)
Map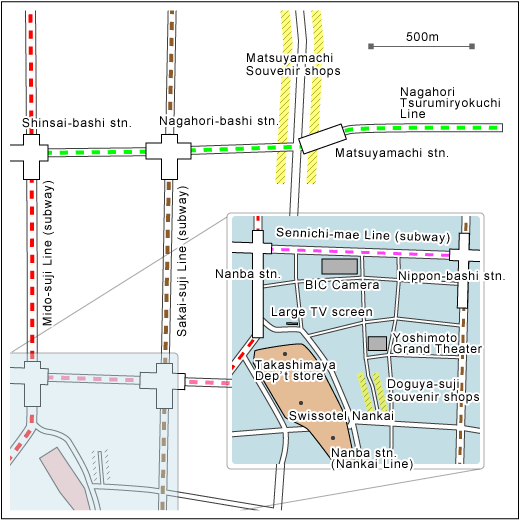 Author : Colin Noble