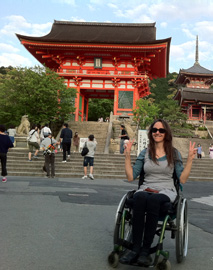 Wheelchair users can travel in Kyoto by the city bus and visit major temples for sightseeing. Old temple buildings made from wood are not originally accessible for wheelchairs but they installed ramps and handles to help those people to go around.
There are three ways of transportation in Kyoto city. Firstly, the city bus is the cheapest and most useful for visiting almost all major tourist sites in the city. Eighty percent or more buses running in the city are wheelchair accessible, which bear the wheelchair pictogram in the front. If you wave your hand to the driver, he will come down and bring you up in the bus using a portable ramp. You tell him your destination and he will help you to get off. One ride costs 220 yen or 'One day pass' (500yen) is available from the driver. You are advised to use buses between 9 a.m. and 4 p.m. if possible to avoid commuter rush.
The second option is the subway which has two lines in the city and are useful to travel long way to the north. Every station has elevators and the station staff will help you getting on and off the train. Buying the 'One day pass' valid for both the subway and bus (1200yen) is the best choice.
The last option is taxi. If you easily move from wheelchair to sedan's rear seat, they can put your wheelchair in the trunk and drive at the normal fare. Otherwise you have to book a wheelchair accessible taxi which is typically a van equipped with a lift or ramp and more expensive than common taxi. When you arrive at the Kyoto station with a big luggage, you should book such taxi for the easy transportation to the hotel. Let's Go Taxi is recommendable.
Our Volunteer Guide service can be helpful for wheelchair travelers to see around the city. We can organize a tour considering your interests and accessibility of facilities. Let's enjoy Kyoto with us!
Recommendation of places to visit
You can visit most of the City's famous tourist sites by wheelchair with or without someone's assistance. Places below are well known historical sites and accessible with wheelchair.
Kinkakuji Temple
Gilded building stands by the pond and visitors can only see the exteriors of it. Wheelchairs can access near the building on the gravel path, but can't go up the hill overlooking the building. Location is far northwest of the city and fastest way to get there is using both the subway and bus.
Kiyomizudera Temple
Kiyomizudera, the most famous temple in Kyoto, was originally built in 8th century. It's located on the eastern hill of Kyoto, off the city bus route. The feature of the temple is wide veranda built over the cliff but there is a big step to get on it.
Sanju-sangendo Temple
One thousand Buddhist statues are displayed in the hall. 700 year-old wooden statues are very well preserved, worth seeing. It's very easy to access with wheelchair.
Nijo Castle
It's not Buddhist building, but a resident and office of Shogun, head of Samurai worriers in 17th century. You are asked to transfer to their wheelchair to see inside the building, but allowed to use yours if the transfer is difficult and clean your tires. There is a nice garden around the building, paved with gravel.
Other recommendations
East and West Honganji temple are not very popular with tourists but they are the head temples of the most major sects of Buddhism in Japan. Nanzenji Temple is the Zen temple which has the good example of Zen rock garden. Nishiki food market is long arcade street lined with small shops selling local foods. It's good for a rainy day activity.
All temples and castle have at least one universal design bathroom which accommodates wheelchair users. Nishiki food market has the one at nearby department store 'Daimaru'. Wherever you are in the city, that type of bathroom can be easily found at some big building such as shopping malls and movie theaters.
Almost all transportation and tourist sites offer the reduction of fares and entrance fees to handicapped people only when they show a certificate officially issued in Japan. Foreign certification is not valid. But some facilities just see you in wheelchair and give you those discounts. So you should ask before buying a ticket.