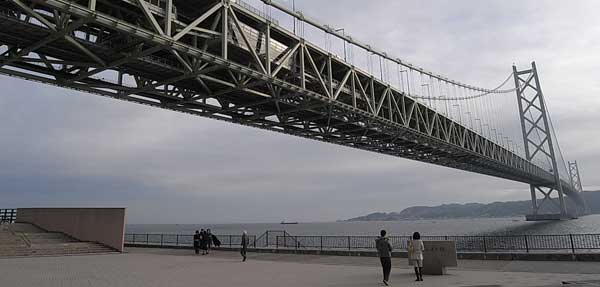 At 3911 meters in length, the Akashi-Kaikyo Bridge is the longest (as well as tallest) suspension bridge in the world. Located just west of Kobe in Hyogo prefecture, the bridge spans the picturesque Akashi Straits, forming a link between Awaji Island and the mainland.
The bridge was opened in April 1998 and is considered something of an engineering marvel. Indeed in 1995 the half built bridge survived the Great Hanshin earthquake which devastated neighboring Kobe (in fact the bridge was lengthened by 1 meter in the process).
The bridge carries only roadway. You can't cross it by train or on foot. But at the north end, there is an observatory hall called 'Maiko Marine Promenade' http://www.hyogo-park.or.jp/ which was built under the roadway. The floor is partly covered by glass which offers a thrilling view of the sea. Opening hours: 9.30a.m.-18p.m. (19p.m. from Jul.20 to Aug.31), closed on second Tuesday every month. Admission: 240yen (300yen on weekend)
Another building at the north end is the 'Bridge Exhibition Center' http://www.hashinokagakukan.jp/, which is an impressive museum with English captions, detailing the construction process. Opening hours: 9.15a.m.-16.30p.m. (17.30p.m. from Jul.20 to Aug.31, 16p.m. from Dec.1 to Feb.28), closed on every Monday excepting from Jul.20 to Aug.31. Admission: 300yen
If you visit the bridge during the period from April to November, they have a special tour which takes you to the deck on one of the two 300m high towers of the bridge. It is two and a half hour long tour, costs 3000 yen, and a prior reservation is necessary. http://www.jb-honshi.co.jp/english/
The bridge is an ideal attraction for tourists who stay in Kyoto or Osaka, bored with historic temples, and have JR Pass to make a day trip. The station at the north end of the bridge is Maiko which is the JR local line, not Shinkansen. You should take the local train from Osaka, and make sure not to take the 'Special Rapid' which skips Maiko station.
Map