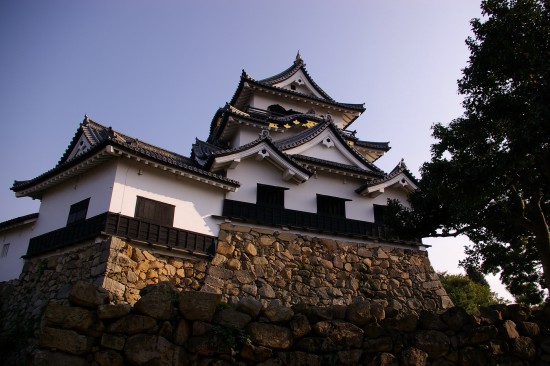 Hikone Castle is one of the 12 remaining Japanese castles. It is located east side of Shiga, on the edge of Lake Biwa (the largest lake in Japan).
The Tenshu(main castle tower) is designated as a national treasure. If you walk inside, you will find the beautiful wooden floors polished by years of use. It is interesting to see the natural shape of the trees used for the beams of the ceiling. This castle also have a beautiful garden.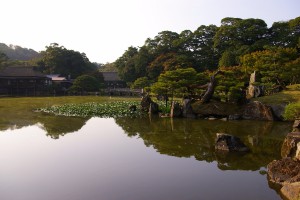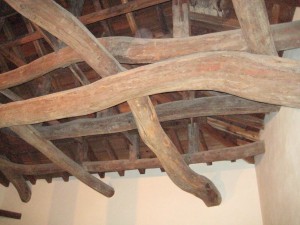 One of recent feature of this castle is its official mascot character, Hikonyan. Hikonyan is created to celebrate the Hikone Castle's 400th anniversary. His name is a mix of "Hikone" for the city and "nyan", the sound a cat makes in Japanese. The character takes on the appearance of a white cat with a samurai helmet topped by two long yellow horns. He wears a sword and a green collar around his neck to which a bell is attached. Hikonyan has enjoyed massive popularity within and without Hikone and his merchandise can be found almost everywhere. You can buy everything from Hikonyan stuffed animals to Hikonyan socks. He even has his own song!
It is possible to "meet" Hikonyan at the Hikone Castle where a person in a large fuzzy Hikone costume comes out to greet visitors, accept gifts, and pose for pictures.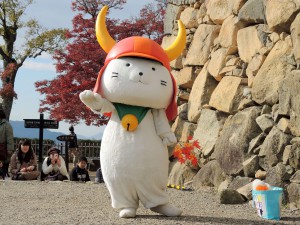 Address:1-1 Konkicho, Hikone, Shiga Prefecture
Hours:8:30 to 17:00
Dates:N/A
Admission: 600 yen/p
Wi-Fi:Unavailable
Station:Hikone Station, JR
Access:10min. walk from JR Hikone Station
Phone:0749-22-2742
Official Webiste

Posted by Sakura