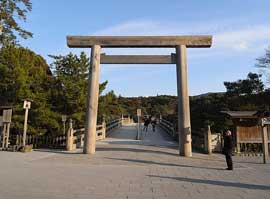 Ise Jingu Shrine has six hundred priests, two thousand years history, and seven million visitors per year. The Japanese prime minister pays an official visit for a new year's prayer. It is the most important shrine in Japan. And the Shikinen Sengu ceremonies are conducted through the year 2013 as the buildings are rebuild in accordance with the Shinto tradition which requires things dedicated to the deity to be renewed in every 20 years. The main events are Sengyo, or the transfer of the object of worship to the new buiilding, which will take place on October 2 at Nanku and October 5 at Geku (starting from 8 p.m.) There are series of rituals throughout the year preceding the Sengyo.
There are two shrines: Naiku which is dedicated to the sun goddess called Amaterasu – the ancestor of Japanese Emperor in mythology- and Geku which enshrines the deity of food. Each site has the central building for worship which is not open to public and a number of sub buildings in a forest. Naiku is larger than Geku. Most people visit Geku first and Naiku second. If you don't have time, skip Geku.
How to get there
Ise is far from Kyoto and Osaka, so you should plan carefully to make a day trip. The easiest way is to take Kintetsu Railways. If you stick to using JR Pass, use Shinkansen train to Nagoya and change to the local train to Ise-shi, otherwise, local JR trains are very slow and four times changes are necessary. The other option from Kyoto is the shuttle bus.
The chart below shows how much time and costs are needed to travel between Kyoto or Osaka, and Ise.
| | | | | | |
| --- | --- | --- | --- | --- | --- |
| | Kintetsu(slow) | Kintetsu(express) | JR (slow) | JR(Shinkansen) | Shuttle bus |
| Kyoto station | Y1960,2h50m | Y3520,2h10m | Y2210,3h | Y7500,2h30m | Y2500,2h30m |
| Osaka Namba station | Y1750,2h20m | Y3030,1h50m | via Kyoto | via Kyoto | – |
From Isuzugawa station it takes 6 minutes by bus and 30 minutes on foot to Naiku.
Map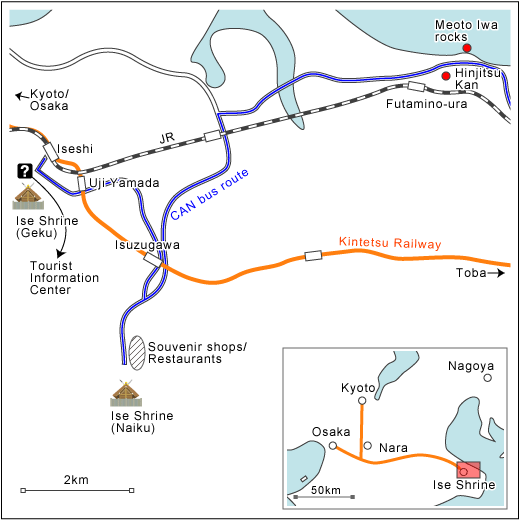 More to see in Ise
Ise is a gateway to the vast area of Ise-Shima National Park which is known for its beautiful coastlines. There are lots of small islands and people live on fishing industry. Toshi-jima island is the easiest to access. In Toba city, there are two popular tourist attractions, pearl museum and aquarium.
Here are two more sites often visited by tourists.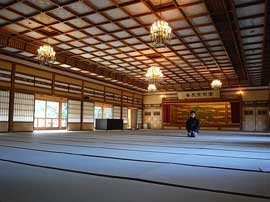 Hinjitsu-Kan is an old hotel constructed in 1887 to host VIPs and Imperial family when they visited Ise Jingu Shrine. It's no longer used as accommodation, but open to public to display its antique interiors. Laying on Tatami in the largest room feels good. Admission is 300 yen. Open from 9am to 4:30pm, Closed on Tuesday.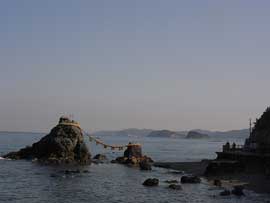 Meoto-Iwa is a pair of rocks which represents the gate to offshore where deity descends. The beach beside the rocks has long been the place for pilgrims to purify themselves before visiting Ise Shrine. Many people come here in the morning to see the rising sun between two rocks.


The location of Hinjitsu-Kan and Meoto-Iwa rock are shown on the google map.

Transports in Ise
Use the local bus called "CAN Bus" which stops all major tourist sites. You can get information at a tourist information center in front of the Ise Shrine (Geku) entrance.
To stay overnight in Ise
There are lots of western style hotels around Uji-Yamada and Ise-shi station. If you don't book in advance, or solo traveler, these hotels are recommended. Japanese style inns generally have two meals (featuring local fish) and require a prior booking.
Tourist information websites
Website: Ise Jingu Shrine (EN)