The Kyoto Imperial Palace (Kyoto Gosho) and nearby Nijo-Jo Castle are well worth a visit. While the Palace is an elegant complex, Nijo-Jo is an imposing construction, reflecting the lifestyle of powerful shogun Tokugawa. Visiting these two sites, you will see the heritage of most important family in the Japanese history, the Emperor and Tokugawa.
The Kyoto Imperial Palace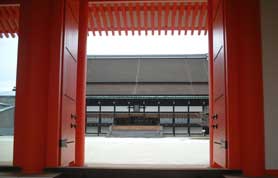 Located in the vast surrounds of Kyoto Imperial Park; the current palace dates from 1854, after numerous fires destroyed earlier constructions. Indeed Kyoto served as the nation's capital for over 1,000 years, during which the Imperial palace housed the emperor and leading members of the court.
In 1869 the capital relocated to Edo (Tokyo) and since then, the palace has been used solely for ceremonial purposes and Imperial enthronements. Despite this, the site retains an air of pomp and majesty, strengthened no doubt by the daunting presence of Imperial police who marshal the park.
Life in the palace was regimented in an elaborate set of rigid customs. Your tour guide will explain for example, the use of different entry gates for different personages, including a gate for the emperor's sole use!
Tours are conducted twice a day (at 10 and 2) by an official guide, take around an hour, and are in English. You will be guided around the various buildings that make up the palace. Photography is allowed but you are prohibited from entering the buildings or straying from the chosen route.
Reservations should be made in advance or you can register with the Imperial Household Agency's office (located north of palace precinct) on arrival. You will need to bring your passport or registration card (for foreign residents of Japan). Without a prior reservation, please try to arrive at least one hour before the tour starts because the number of participants is fixed and it's usually full.
The office is closed on weekends. Phone 075-211-1215 or refer to  http://sankan.kunaicho.go.jp/english/ to apply.
Each spring (and autumn) the palace opens its doors to the public for a few days, sometimes exhibiting rarely seen national treasures. The prior booking is not required during that period. In Spring 2016, it's from April 6th to 10th (from 9 a.m. to 3:30 p.m. each day).
Nijojo Castle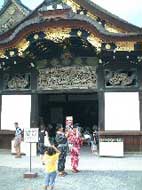 Built in 1603, Nijo-Jo offers a striking contrast to the Imperial Palace. In 17th century Japan real power was exercised by the ruling samurai classes, headed by the powerful shogun Tokugawa dynasty.
Ostensibly a castle, it is more palatial in design, with ornate carvings and delicately painted sliding doors adorning the rooms. Unlike the palace, one can enter the buildings, providing an opportunity to tread on the legendary 'nightingale' squeaking floors, which were installed as an alarm system by the security conscious samurai. There is also a sizable rock garden, incorporating many features typical of Japanese design.
Open : 8:45 am. – 5 pm. (must enter by 4 pm.) | Close on Tuesdays of December, January, July, and August. Close during the New Year's holiday.
Admission : Y600
Access : Subway Tozai Line to Nijojo-mae Station
Website : http://www.city.kyoto.jp/bunshi/nijojo/
Map