Tired of the sprawling cityscapes of Osaka or Kyoto? It's a good idea to head for Arashiyama, an area of scenic beauty and historical importance on the western fringes of Kyoto.
From here it is possible to savor the twin delights of rail and boat travel, on a relaxing round trip, where the source of pleasure lies in the journey itself. Allow yourself to unwind amid the beautiful mountain scenery, enjoy the sakura cherry flowers in spring and crimson foliage in autumn cascading down the hillsides, and let the fresh air invigorate your senses.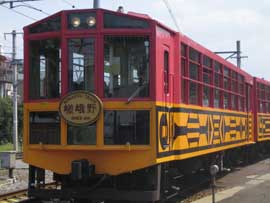 For the outward leg take the Sagano Trolley train (Sightseeing Tram) to Kameoka, a small town 7.3km away across a spectacular mountain pass to the west. Known as the 'Romantic Train' or called in Japanese 'Torokko Ressha', its open air carriages allow for easy photography, as you are sedately wound around steep, forested canyons and plunged through tunnels. The trip takes around 25 minutes.
On arrival buses will transport you to a riverside dock, where you can take the return leg, this time via traditional long boats.
The river was used to transport wood and rice as early as 1606 and has been a popular pleasure cruise since 1895.
Each boat is piloted by a 3 man team of highly skilled rowers. Familiar with every twist and turn of the 16km route, these 'river-vets' navigate their way through the Hozu gorge, using poles and oars to get you safely back to Arashiyama in about 2 hours.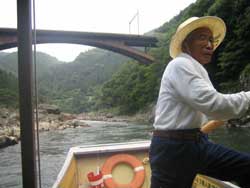 Each section of the river has its own character, alternating between fast flowing rapids and slower stretches of calm. The slow pace of the journey allows you to see nature close up. Just sit back, take in the tranquility and gorge on the wonderful autumn colors. Along the route, you may notice several rocks signposted, many of which are said to resemble animals (spotting the resemblance may prove tricky!). As the boats approach Arashiyama, vendor boats come along side your vessel, providing an opportunity to buy refreshments.
Allow at least half a day to complete the trip. Indeed we recommend you set aside more time to enjoy Arashiyama itself. It is a very pleasant area, very rural in feel, with much to offer the visitor, from lush bamboo groves to UNESCO World heritage temples (such as the popular and famous Tenryu-ji) and mountain trails.
Here are information about the train and the boat.
Trolley train :
Trains leave from Saga station (usually at 7 mins past the hour) and cost 600Y one way, 300Y for children. If you opt to return the same way, the train departs Kameoka at 35 mins past the hour.
The line is open between March and December. It is closed every Wednesday except for the busy seasons. Prior booking is not necessary but recommended during the spring and autumn peak times and on Japanese national holidays. See the company's official website http://www.sagano-kanko.co.jp/ for more information.
Note – it is also possible to travel from Arashiyama or Kyoto directly to Kameoka using the regular JR service.
Hozu-gawa Boats :
Operation is between March 10 and November 30. Boats leave 7 times a day between 9am and 3.30pm, and cost 3900Y for adults, 2500Y for children. Boats have 24 seats and protective roofs in case of rain. During the winter season, different type of boats are available. Visit http://www.hozugawakudari.jp/en/tickets-en for more information.
Map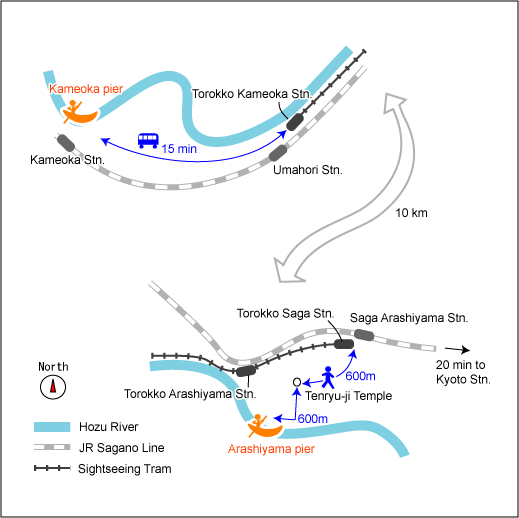 Colin Noble