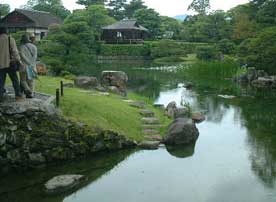 Katsura Imperial Villa was constructed in 17th century as the detached palace for Hachijo-no-Miya Imperial family. There are some wooden buildings in a beautiful garden surrounded by woods. Thanks to the restriction of visitors, the official tour strolling in the site allows you to fully enjoy the exquisite landscape in quiet environment.
The garden consists of ponds, trees, streams and stone bridges, and houses as they blend into the surroundings. There are no colorful flowers, but trees and moss are grown very carefully. In the old days, the court nobles enjoyed viewing the garden from the tea houses or from a boat on the pond. and also enjoyed moon viewing at night.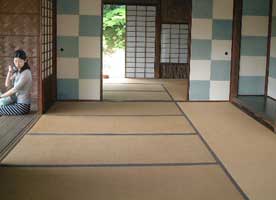 The palace and tea houses built in pure Japanese style look simple but elegant. They are no longer used by the Imperial family, but still maintained by the Imperial Household Agency, and open to tourists with an advanced reservation.
The tour is :
available only for people aged 18 or older.
conducted on 9, 10, 11am, 1:30, 2:30 and 3:30pm (Tour time: 60 min.) from Monday through Friday, the third Saturday of each month and every Saturdays in March, April, May, October and November.
free of charge and led by a Japanese speaking guide but the English audio guide is available.
Reservation :
Prior reservation is necessary.  It is made on their webpage or by visiting the Imperial Household Agency's kyoto office. The online reservation seems to get full earlier than the office.
A party must be up to four people when you apply.
How to get there :
It is located about 6 km to the west of Kyoto station. You should take the City Bus #33 from Kyoto Station to Katsura Rikyu Mae stop. When you use the one-day pass, pay extra fare in cash to the driver. The other way is to take Hanyu Railway to Katsura station and walk 15 minutes to the Villa.
Map