There are thousands of sake breweries in Japan and each one has its unique taste and flavor which derives from the local rice and water. Among them, Nada district of Kobe has about 40 breweries and produce nearly 30 percent of Japanese sake production. Yamada Nishiki, special rice grown for sake and mineral rich water from northern mountain make excellent sake of Nada.
The history of sake brewing in Nada dates back to the 17th century and their methods have been passed down to the present day. By the Great Hanshin Earthquake in 1995, breweries' wooden facilities were completely devastated and they rebuilt new one. As a result, breweries got the appearance of concrete wall, but they maintain their traditional method of brewing in new buildings.
Today, some breweries give us opportunities to learn the process of making sake by opening their museums and a part of production line, where you can taste and buy their fresh sake. They say Sake has an unique fermentation process which can't be seen in other fermented alcohol beverages and it needs a skillful manipulation by the experienced brewers. The consumption of Sake in Japan is decreasing as people prefer beer and sho-chu for their evening drink. That's why, in recent years, they increase public relations.
Thirty seven breweries are located in large area extending from west to east along Hanshin Railway line, so you should choose one or two to visit and get off the nearby station. The following are two recommended breweries.
Hakutsuru Sake Brewery :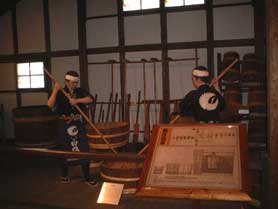 Hakutsuru is the Japanese largest sake brewing company and it has a good museum which exhibits many old sake making tools and videos of explanation (both Japanese and English) in wooden building converted from the old brew-house. At the end of the exhibition, you can enjoy testing a cup of fresh sake.
Website : http://www.hakutsuru-sake.com/content/08.html
Kobe Shu-shin-kan Brewery :
Shu-shin-kan is located about one kilometer to the west from Hakutsuru. Despite most breweries do not allow the visitors to enter the actual brew-house, Shu-shin-kan opens their facilities. The inside-brewery tour is conducted from June to August and November to March. In the tour, you watch the video first and walk along the course from rice polishing to filtration. Here also, they offer several different kind of sake at the end of the tour. You can sip them for free and buy if you like. They have only one tour which starts 2 pm and takes about one hour. You must make a reservation by the previous day.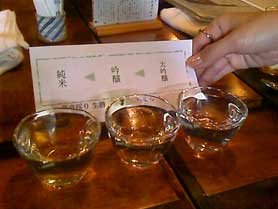 Shu-shin-kan has the restaurant "Sakabayashi" which serve Japanese cuisine and sake. They have fresh Tofu made in a part of their brewery site. The set menu of tofu or Soba buckwheat noodle is a good choice for lunch. An authentic Kaiseki cuisine is also available. A variety of sake are served right after being taken out of their brewery, which have wonderful aromas. If it's hard to choose your favorite sake from their long list, take "Kiki-zake" which comes in three small cups (70 ml each) of different types of sake. Reservation is not required but recommended especially on weekends.
Website : http://www.enjoyfukuju.com/english/
Map