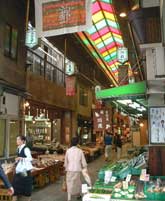 Despite the fact that Japanese people usually buy fresh food at a nearby supermarket where things are sold in packages and paid at a cash desk, Nishiki Market survives as one of the very few examples of old style face-to-face selling market. The reason is the uniqueness of foods which are local specialties both raw and processed such as vegetables, fish, dried food, Japanese pickles, tea leaves and etc. Also its good location, very center of Kyoto city, helps many travelers stop by easily.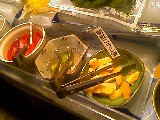 The origin is traced to the fish market in 17th century. Today, there are 130 venders including some small eateries which offer lunch or sweets along the 390 meters narrow street. The foods (mainly pickles) in front of a shop with tongs are free samples. Just strolling in the market can be fun.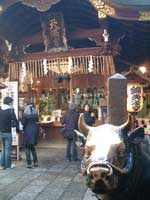 To get there, you walk one block to the north from any point on Shijo-dori street in the middle two-thirds length between Kawaramchi and Karasuma station. Stores open till 5 or 6 pm. and are covered with arcade, so the tourists can enjoy shopping even in late afternoon and on a rainy day. On Wednesday and Sunday, some shops are closed. At the east end of the market, Nishiki Tenmangu, an old shrine for praying a good academic achievement, is also worth visiting.
website : http://www.kyoto-nishiki.or.jp/english/
Map

より大きな地図で Nishiki Market を表示