(This is a past event)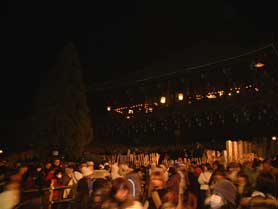 Omizutori is the annual Buddhist ceremony held by the Todaiji temple's monks. The famous event of the monks running with torches are performed each night from March 1st through 14th. People gather outside the Nigatsu-do hall and look up the balcony where monks carry a big ball of fire one after the other. Also it is said that sparks of the torches bless the people with good health, so every one try to get shower of sparks and pick up ashes.
The ceremony features water and fire. The monks offer the sacred water to the Kannon statue, and the torch fire are used to guide them to the right direction. In the hall, being closed to public though, monks have a cleansing ritual and then pray before the Kannon for our well being. Its history began in the eighth century and has never interrupted up to this year.
The torch burning is scheduled in the same way every year.
March 1-11 and 13 : Ten torches burn for 20 minutes from 7 pm.
March 12 : Eleven torches burn for 45 minutes from 7:30 pm.
March 14 : Ten torches burn for 5 minutes from 6:30 pm.
The Nigatsudo hall's front yard gets very crowded with people watching the torch burning. You should get there one to two hours before it starts to stand so close to the hall as to be hit with sparks. Night time during early March is very cold, so a winter jacket is a must. On March 12, torches are bigger than other days and March 14 is the last day, so these two days are most crowded.
Access :
Nigatsudo hall is a part of Todaiji temple which is famous for the great Buddha statue. From the nearest Nara station (Kintetsu Railway), you can follow people walking the same way to the temple.
Map :