Osaka is not very popular with tourists because they think it's just another modern city after Tokyo. In fact, you only see concrete buildings from the Osaka station. But it's worth at least a half-day tour for a quick look at the Osaka Castle and strolling in busy Dotonbori district. Friendly people and good inexpensive food of Osaka are well known across the country. So staying afternoon is recommended to enjoy dinning and seeing local people out of their office.
Osaka-jo Castle: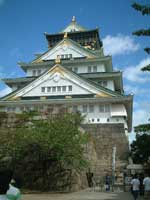 The 55 meter-tall castle tower is built in the 260-acre ground including the park. Magnificent main tower always appears on medias as a typical image of Osaka. Like many other castles in Japan, it was built in the feudal era. A famous warlord Toyotomi Hideyoshi founded the castle in 1583 after he gained power at the end of hundred-year long civil war. He was the unifier of Japan and at the same time the founder of flourishing commercial city of Osaka. Osaka's people today praise his work.
So it's a shame that his son was defeated by the Eastern warlord Tokugawa in 1615, only thirty years after the castle was completed. Then the Edo castle in Tokyo became the center of the government of Tokugawa shogunate. Meanwhile Osaka-jo castle was reconstructed under Tokugawa's command. He buried the old castle's remain and built bigger castle tower on it. So what you see today, moats, ramparts, gates and warehouses were built in early 17th century, during the Tokugawa era. The main tower is even more recent, in fact a concrete-walled building completed in 1931. Tokugawa's tower was struck by thunder light and destroyed in 1665.
The museum is very large and displays things related to Toyotomi Hideyoshi and his battle against Tokugawa. If you are very much interested in the Japanese history, you could spend more than an hour to see all displays from first to eighth floor. You can get a fine view of the city from the observation deck on the top floor.
Osaka Castle Museum is open from 9 am. to 4:30 pm. Admission is 600 yen. Website: http://www.osakacastle.net/english/
Gates to the castle's precinct are open around the clock.
Dotonbori :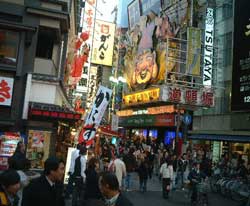 Dotonbori is the name of the canal but has long been referred to as the center of entertainment district of Osaka. There were a number of theaters in the Edo period and people enjoyed the performances of Kabuki and Joruri puppet play. Restaurants were necessary around theaters and Dotonbori became a busy place. Today, only few theaters remain and various kinds of amusement facilities are open instead. It's fun to walk and taste Dorobori anyway, and more fun if you go with a local Volunteer Guide!
Map