(This is a past event)
Early each February a series of events take place to mark Setsubun (節分): the changing of the season from winter to spring. Traditionally this was a time to expel evil and prepare for the planting season ahead. Always a fun occasion, activities include the scattering of beans to purify homes and the driving out of devils from temples and shrines! At this time, scary masks and packs of special beans go on sale in shops all over Japan.
February 3rd is Setsubun ('Setsu' meaning season, 'bun' dividing line). Strictly speaking the name refers to all changes of season, but these days it is synonymous with spring. The date is taken from the old lunar calendar. In truth, February is a little early to be considered spring (wrapping up warm to enjoy the festivities is highly recommended!).
The Setsubun customs have a long history; they are traceable back to the Ming Dynasty of China, and were popularized in Japan 15th century.
The ritual of scattering soybeans usually falls to the head of the household, who shouts "Oni wa soto! Fuku wa uchi!" (Demons out! Luck in!) as they throw. After this family members pick up and eat the beans. To ensure good luck, the number eaten should correspond to your age.
On the night of Setsubun many households hang holly boughs outside the front door, decorating them with a sardine head, a clove of garlic, or an onion. Holly is believed to sting oni (devils), thus preventing reentry. The bad smell assists the displacement!
Yoshida Shrine Setsubun ceremony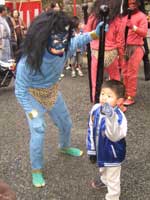 A great place to experience Setsubun is Yoshida-Shrine (吉田神社) in Kyoto. Located on a small hill to the east of the city-centre, this shrine holds an annual 3 day festival (Feb 2 – 4).
Volunteers dressed as devils make periodic patrols of the grounds, clubs in hand, and roar at children, adults and bemused tourists alike! It is all very enjoyable, although the spectacle of such devilry often proves too much for younger children! The festival climaxes in a huge ceremonial bonfire on the second night, in which huge numbers of amulets and charms are burned inside a giant mesh cage.
To get there, take the Keihan line to Demachiyanagi station, the final stop northbound. From here it is a 15 minute walk to the south-east. Alternatively, take City Bus numberd in the map below to Hyakumanben or one stop to the south or east.
Many temples and shrines observe Setsubun. Other worthwhile locations in Kyoto include the Heian and Yasaka Shrines.
Colin Noble
Map