Most temples, gardens, and parks in Kyoto have deciduous trees which have beautiful colors in late November. There is no particular place to enjoy Autumn leaves viewing, but some sites are very popular because of the concentration and arrangement of trees. Listed below are locations typically visited by tourists. 'Evening view' allows people to visit in the evening by extending their opening hours and illuminating trees.
Unlike cherry blossoms of April, people don't have parties under maple trees, but just stroll and take pictures of the trees.
Popular places for Autumn leaves viewing in Kyoto

View Popular places for Autumn leaves viewing larger map
| Map | | Surroundings | Admission | Evening view (2013) |
| --- | --- | --- | --- | --- |
| 1 | Kiyomizu Temple | Temple | 400 yen | Nov.15-Dec.8 |
| 2 | Nanzenji Temple | Temple | 500 yen | |
| 3 | Eikando Temple | Temple | 600 yen | Nov.8-Dec.5 |
| 4 | Philosopher's Path | Path | | |
| 5 | Tofukuji Temple | Temple | 400 yen | |
| 6 | Nijo Castle | Castle garden | 600 yen | |
| 7 | Imperial Palace Park | Park | | |
| 8 | Kitano Temangu Shrine | Shrine | | |
| 9 | Arashiyama district | Mountain, Temple | | |
| 10 | Sagano Sightseeing Tram | Mountain, River | 600 yen | Oct.13-early Dec. |
| 11 | Takao district | Mountain, Temple | 500-1400 yen | November |
Takao district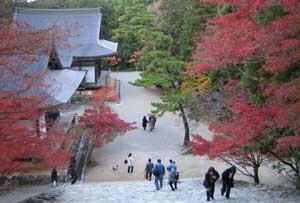 Among eleven sites in the above list, Takao district has the biggest increase of visitors in November than in other months. Located an hour's drive north-west of Kyoto, it is famed for its secluded temples and mountain scenery. In November, lots of people visit there to view the fall foliage, and hotels and restaurants are busy. The rest of the year Takao reverts back to its sleepy self.
Takao's main points of interest are three temples clustered around an impressive river valley. The temples are within easy walking distance, although it's probably best to start with Kozan-ji and work your way down the valley. We recommend you allow at least half a day to enjoy the sites.
Kozan-ji Temple
A collection of temple outhouses surround an aged tea plantation in a woodland setting. Includes Sekisuiin; famous for its animal hand scrolls, and containing a pleasant garden with hillside backdrop. (admission Y600; open 8:30am – 5pm; access from Togano-o stop)
Saimyo-ji Temple
A very scenic spot located across a picturesque red bridge and up some steps. The colors are extremely vivid in peak season. (admission Y400; open 9am-5pm; access from Takao or Makino-o stop)
From here follow the river downstream and towards the entrance steps to Jingo-ji. During autumn, this section of the river is lined with restaurants and stalls selling seasonal delicacies and tasty snacks.
Jingo-ji Temple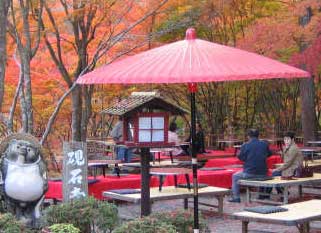 A large temple complex situated atop a hill; this temple is reached via a winding series of steps leading up from the river. At the Jizoin outhouse, clay disks can be purchased and then hurled down the valley. It's a fun activity and is said to rid you of bad karma! (admission Y500, Y100 per 2 clay disks; open 9am -4pm; access from Jingo-ji Mae bus stop) They have another opening hours from 5pm to 7pm during 18 days from November 1st, allowing visitors to enjoy illuminated temples and gardens.
How to get there
Regular JR buses (blue and white) leave from Kyoto Station (via Shijo-omiya) from early morning, with the last bus leaving Takao at 7:58pm. During the fall season buses can get crowded so be prepared to stand.
Takao's autumn leaves usually reach their zenith around mid November, a week earlier than the central city.
Map