Arashiyama district is located 10 km west from the Kyoto city center and has long been a scenic leisure spot with mountains and a river. Ancient aristocrats had their villas here a thousand years ago and enjoyed making literature and poetry. Then Buddhist temples were built over the centuries, and many restaurants and hotels were built, and today, the area became one of the most popular tourist sites in Kyoto. Togetsukyo bridge, as the area's landmark, dates back to 9th century and provides a good photo taking spot for visitors today.
When the area gets very crowded in spring and autumn seasons, especially during the period of cherry blossom and fall foliage, you may want to eat lunchbox in the park by the river if weather is fine, instead of queueing for $10 noodle at a tourist restaurant. In summer and winter, the area is quieter and relaxing but the view of the mountain is not very good. So ideally, you should be there in early morning in high seasons to enjoy the best of Arashiyama.
As it takes an hour to get there from the city center, I would only recommend making a half-day or full day tour, if it includes the tram and boat, for people who stay in Kyoto for three days or more. The sites to see are Tenryuji temple, Monkey Park, and the walkway through the bamboo forest.
Tenryuji Temple :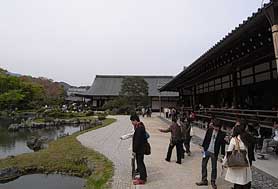 Tenryuji is one of the five most important zen temples in Kyoto. It was built in 1339 by the Shogun Ashikaga in memory of Emperor Go-Daigo and was a complex of more than one hundred buildings. But they were mostly destroyed by fires and civil wars, and present buildings date back to the late 19th century. Only the garden remains in its original form which was designed by the monk Muso who is also the renowned artist. You can enjoy walking in the landscape garden.
Hours : 8:30 a.m. – 5:30 p.m. (5 p.m. from Oct.21 – Mar.20)
Admission : 500 yen for the garden and another 500 yen for the Hatto hall. (The main hall is closed until March 2014, due to the restoration)
Website : http://zen.rinnou.net/head_temples/10tenryu.html
Monkey Park :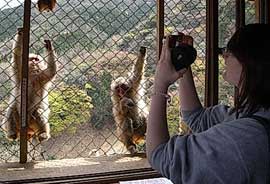 135 Japanese monkeys are roaming in the park on a hill. After a fifteen minute refreshing hike, you will see tame monkeys very close. Cut fruits to feed monkeys are sold at the hut which stands on the hill overlooking the city. I believe you and your children must have a lot of fun time together.
Hours : 9 a.m. – 5 p.m.
Admission : 550 yen
Website : http://www.kmpi.co.jp/English/english.htm
Boat hire :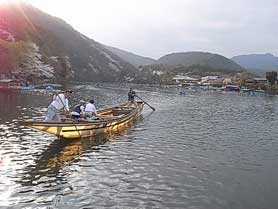 A rowing boat allows you to enjoy the views only available from being out on the water. That used to be a pastime for noble people 1000 years ago and now is popular with families and couples. There are choices of boat types: a small boat for three people (1400 yen / hour), middle size boat for two people which is manipulated by a man with a long pole (3500 yen / half-hour), ten seats boat to view the cormorant fishing in the summer night (Jul.1 to Sep. 15, 1700 yen /hour), and some more types which serve lunch on board.
Website : http://www16.plala.or.jp/kyoto-yakatabune/index.html
Shigureden poetry museum :
Shigureden is a Japanese poetry museum featuring Hyakunin-Isshu. After the game maker Nintendo stopped sponsoring the museum, there is no longer any amusement in exhibits. The exhibition room is small and some displays lack translations. Only for those who are interested in Japanese poetry from the beginning, the ticket is worth 500 yen. On the second floor, Kimono costume photography is available for free.
Website : http://www.shigureden.or.jp/
Bamboo forest :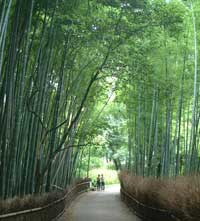 Off the main street of Arashiyama, there is a walking way which leads to a bamboo forest. The forest is not large and wild, but tall bamboo trees create a natural tunnel to walk through, allowing you to have a good refreshment and ideal travel photo. You should stop by the Nonomiya Shrine in the forest. Also, at the T-shaped end of the alley, Okochi-Sanso villa opens its Japanese garden which is worth 1000 yen entrance fee for garden lovers.


How to access Arashiyama : The easiest and fastest way is to take JR train from Kyoto station. The second choice is Randen train from Shijo Omiya or Kitano Hakubaicho to Arashiyama. The last choice is the city bus, #11 from Shijo Kawaramachi.
Map