As of the end of April, cherry blossoms are gone in Kansai.

Lake Biwa Canal and Keage Incline, Keage Higashiyama, Kyoto
Late March and early April herald the start of spring and, with it, the annual cherry blossom craze. Known as 'Sakura', the flowering of cherry trees up and down the country is a national event and receives acres of media coverage, as forecasters chart the progress of the budding blooms. All over Japan people gather to enjoy 'Hanami' (blossom viewing) parties under the boughs; parties that provide an opportunity to enjoy the spring sunshine and allow travelers to see the Japanese at their most uninhibited.
Numbers of Japanese websites provide information and updates of cherry blossom blooming dates. In this year 2016, the blooming is beginning earlier than last year (see the map below). It is predicted in the end of March in the most of major cities in Kansai. Check more frequent updates on http://www.jnto.go.jp/sakura/eng/
A Hanami party is a fun experience and is similar in nature to a picnic; tarpaulins are spread out under trees and revelers get together to drink sake or beer and to socialize. They can be boisterous affairs, with much singing and partying often lasting well into the night. Competition for spots is fierce and in some parks vendors set up stalls selling traditional Japanese foods and drinks.
The blossoms bloom in a geographical front all across Japan. In Kansai the season usually peaks around mid April but can change by plus or minus a couple of weeks, depending on weather conditions. You should look for signs or posters outside stations which often operate a star system to indicate conditions at local hotspots.
There are numerous spots to enjoy the blossoms. They enhance the majesty of shrines, castles or temples but you may also consider going to a local park for a more authentic Hanami experience. Some private estates also open their doors at this time. Popular spots can be extremely busy but somehow this all adds to the experience. The followings are the places we recommend you to consider.
Kyoto :
Maruyama Koen Park : A hive of activity close to Kyoto's main temple district.
Hirano Shrine : A popular place for Hanami parties, with over 500 trees in bloom.
Philosopher's walk : A canal walk lined with cherry trees.
Osaka :
Osaka-Jo Koen Park : A large city park with extensive grounds (incl. Osaka Castle), most popular place for party type hanami.
Osaka Zoheikyoku : The private grounds of Osaka Mint with 175 varieties of cherry tree are open to public only for a week. It is from April 8th to 14, 2016. Refer to http://www.mint.go.jp/eng/index.html
Kobe :
Shukugawa Koen : A narrow park, 4.4km in length, lined with cherry trees.
Nara :
Yoshino : Japan's most famous cherry blossom viewing site. 30,000 trees carpet the hillside in a wonderful spectacle.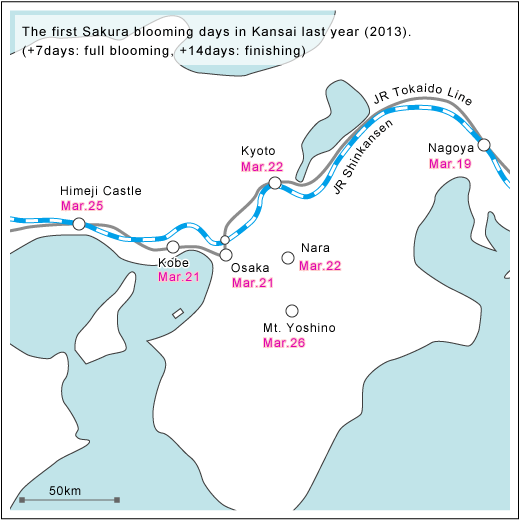 Yozakura "Night Viewing" in Kyoto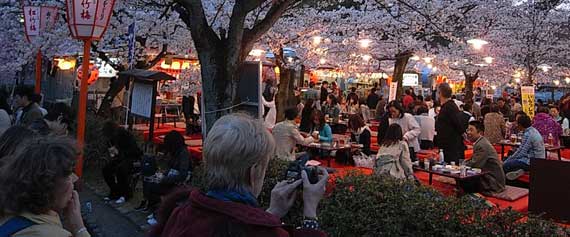 Each year selected temples and shrines in Kyoto extend their opening hours to allow 'night viewing' of their blossoming cherry trees. Beautiful by day, the garden and temple structures are magically enhanced at night, combining with the flowering buds and bright lights to dazzling effect.
For a number of years now, citizens and visitors to Kyoto have had the opportunity to experience the majesty of Kyoto's temples by night. Illuminated under brightly colored lights, the blossoms seem to take on a different perspective.
The normally tranquil temple atmospheres are given over as thousands descend to stroll and photograph themselves amid the pink foliage. And with vendors setting up stalls outside and serving up tasty Japanese delicacies and drinks, the atmosphere is more akin to a sports event.
Some of the best places to enjoy night viewing of the blossoms in Kyoto include:
Kiyomizu Dera Temple : Majestic Kyoto favorite. March 14 to 23, March 29 to April 13, 18:30 – 21:30. Admission Y400.
Kodai-ji Temple : Includes artistic light show. March 14 to May 6, sunset-21:30. Admission Y600.
Nijo-jo Castle : 200 cherry trees in grounds. March 21 to April 13, 18:00 – 21:00 Admission Y400.
Maruyama Koen Park : Includes famous giant weeping cherry. Mid March to about early April, From sunset till 1am. Free admission. The most popular site for a hanami party.
Hirano Shrine : 500 cherry trees, many people have night time hanami here. Late March to mid April
Arashiyama Nakanoshima Park : Hundreds of trees bloom along river amid delightful mountain scenery. Mid March to early April, From sunset to 10pm. Located in western Kyoto city, out of the map below.
Of course the temples above are open during the day too. Also in the daytime, northeastern area includes very popular sites such as Heianjingu Shrine, Nanzenji Temple and Philosopher's walk.
'Higashiyama Hanatoro' (lanterns lit in the east city area)
In the evening, many people flow into Higashiyama area (the east city area indicated blue circle on the map below) to enjoy night viewing at temples. In this area, prior to the cherry blooming days, the special event called 'Higashiyama Hanatoro' will take place. 2400 lanterns are lined on the walking path from 6pm to 9:30pm between Mar. 14 to Mar. 23. Refer http://www.hanatouro.jp/e/ for more information.
Other places for Hanami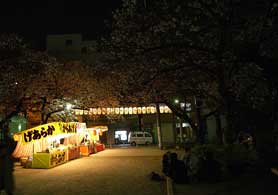 If you want to enjoy sakura in downtown of Kyoto city, Takasegawa canal and Gion-shirakawa is recommended. Also in any small parks in the city, there are some sakura trees and the same number of groups having parties by the tree. Let's enjoy your favorite style of Hanami with us Volunteer Guide!
Map