(This is a past event)
The blossoming plum flower is the signal that winter is about to end. Plum trees planted in parks and shrines in Japan bloom during February and March, and people enjoy viewing flowers and its fragrance.
Plum (Ume, Japanese apricot) trees are not as popular as cherry trees for flower viewing, but there are some places known for a nice plum garden or a specially cared trees, drawing thousands of viewers during the season.
Kitano Tenmangu Shrine (Kyoto)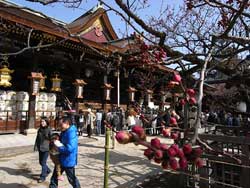 The old Shinto shrine, Kitano Tenmangu has 50 types, 2000 plum trees. It is open from early February to late March.
There are many Tenmangu shrines across Japan as the Kitano's branch and they all celebrate plums in dedication to the ancient politician Sugawara who is the origin and the center of worship of the shrine, and loved flowers.
Opening hours : Plum Garden : 10am to 4pm between early February and late March. admission 600 yen. The shrine's prayer hall is open from 5am to 6pm in summer, 5:30am to 5:30pm in winter.
Access : Take the City Bus (numbers shown on the map below) to Kitano Tenmangu Mae. If you walk from the nearest JR station, Enmachi, it takes about 20 minutes.
Web site : http://kitanotenmangu.or.jp/english/
Kami-shichiken, located east of the Kitano Tenmangu shrine, is one of five major Geisha districts in Kyoto. It is recommended to walk the street lined with Geisha houses.
Banpaku-Koen Park (Osaka)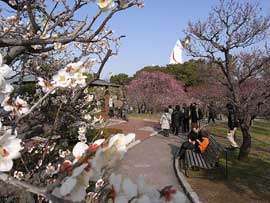 In a northern suburb of Osaka, the Banpaku-Koen Park has the playgrounds, ponds, woods, Japanese garden, and the national museum in its large 264 hectare ground. You can enjoy flowers each season. In February and March, 700 plum trees (150 types) have white and pink flowers. They have the annual "Plum Festival" from Feb.16 to Mar.10, 2013 in which they sell some plum products and bonsai. A cup of green tea is also available at the Japanese style tea house in the garden.
Opening hours : 9:30am to 4:30pm Close on Wednesday.
Admission : 250 yen
Access : From Osaka or Shin-Osaka station, take Midosuji Line to Senri-Chuo and change for Monorail. Get off at Banpaku Kinen-Koen station. From Kyoto, take JR train to Ibaraki station and get Kintetsu bus to Nihon Teien Mae and enter the park from the East gate. For another way from Kyoto, take Hankyu train to Minami Ibaraki station and change for the Monorail.
Web site : http://www.expo70.or.jp/e/
Nagahama Bonbai (Shiga)
Nagahama is the city located 80km northeast of Kyoto and Bonbai means bonsai or potted tree of plum tree. They exhibit their excellent works of bonbai only for two months each year. It started in 1952. They have 90 pots this year including 400 year-old tree and 2.8 meter-high tree.
Opening hours : 2013 Jan.19 to Mar.10, 9am- 5pm (extends to 8:30pm with illuminations from Feb.9 to Mar.9)
Admission : 500 yen
Access : Bonbai exhibition is held at an old wooden building called Keiunkan. Take JR train from Kyoto to Nagahama station. It takes about an hour and 1280 yen. Then walk three minutes to the venue, Keiun-kan.
Web site (Japanese) : http://www.nagahamashi.org/bonbai/
Map