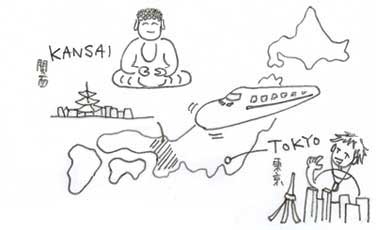 Welcome to Kansai!
Kansai region includes the cities of Kyoto, Osaka, Kobe, and Nara which are famous for the rich cultural heritages from ancient times. VisitKansai provides foreign travelers with the free "Volunteer Guide" service to help them understand our culture.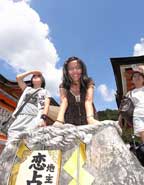 Local people will guide your tour.
We have 17 members who are interested in tour guiding. They speak Japanese and some other language(s) and help you to enjoy your sightseeing, shopping and eating out. To meet local people while traveling is fun. To meet people from different part of the world is fun for us, too. That is the starting point of this service. We hope a guide will make your tour more enjoyable and also bring better understanding of Japanese history and culture.

Kansai had been the political, economic, and cultural center before the feudal power was transferred to Tokyo in 17th century. Therefore, a lot of historical sites remain intact in this region and you can see the traditional side of Japan which is in contrast to the modern side of Tokyo. Each cities in Kansai has a different charm to attract tourists. Here are some recommendatios of tourist attractions that you could take advantage of being accompanied by a guide.
| Kyoto | Osaka | Nara | Kobe, Shiga and Wakayama |
| --- | --- | --- | --- |
| The most popular turist city in Kansai. Hundreds of old temples including 13 world heritages disignated by UNESCO. | The biggest city in western Japan. Castle and nice food. | Todaiji with Great Buddha hall and statue. Roaming deers and quiet park on the hill. | Other cities in Kansai. Fewer tourists but some unique attractions. |
Kansai's attractions are not only historical temples and shrines. Hands-on activities, shopping, and eating-out also have some local uniqueness. This section includes recommendations for what to do and eat in Kansai.