I don't really enjoy just seeing old temples and shrines but shopping in temple's market is really fun. There are three major outdoor markets in Kansai which are held monthly at the temple's sites. The day is fixed each month which is called En-nichi, the memorial day for the temple's founder and thousands of people visit to pray, making wishes, and enjoy shopping at the markets.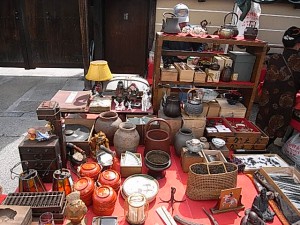 Toji Temple
This 1200 year-old temple has the largest monthly market in Kyoto. More than 1000 shops, dealing antiques, clothes, and foods, open from early morning to sunset. It's on the 21st day of a month, which commemorates the anniversary of the head priest Kukai's death in 835, so the memorial service is held at the central hall on the day. The temple is famous for its five story pagoda, which is the landmark for anyone who arrives at the Kyoto station by Shinkansen. The temple's east gate locates 20 minute walk from Kyoto station's south gate.
Kitano Temmangu Shrine
Another big market in Kyoto opens on 25th day of each month at the famous Shinto shrine, Kitano Temmangu, which was built about 1000 years ago in dedication to an aristocrat Michizane who was born and died on the 25th day of a month. The shrine is popular with local people who wish to path the exam at schools because Michizane was a successful scholar working for the imperial court. It is located about 15 minute walk away from Kinkakuji Temple.
Map
Shitennoji Temple
Temple's markets in Osaka are not popular enough to draw thousands of tourists like the two in Kyoto, but the one in Shitennoji Temple is loved by local people in Osaka who are typically very friendly, social, and enjoy chatting while selling and buying. The temple has 1400 years history and its market take place on 21 and 22 day of each month, which are the Ennichi for Kobodaishi and Shotokutaishi.
Three venues above are the most popular ones of its kind in Kansai region, but similar outdoor markets which are smaller in scale are found in other places. Kamigamo Shrine (4th Sundays) and Chionji Temple (15th) have Tedukuri Market where neighbors sell their handicrafts.
Map