Kyoto is famous for 300-year-old Geisha tradition. There are about 250 Geishas in Kyoto city – they are popularly called Geiko and Maiko in Kyoto – and 100 of them are registered in Gion, the most prestigious geisha community.
Gion is also the district name where many houses served tea to people who visited Yasaka shrine in the old days and later they added attractions of singing and dancing to entertain those people. That is the origin of Geisha in Gion.
So called 'Ocha-ya' or 'Tea house' today is a place where kimono-clad Geishas pour their guests a cup of sake and perform arts of dancing, singing, playing instruments, and traditional party games. Not many people go such banquet because it's very expensive and inaccessible for visitors without a repeater's accompaniment.
Geisha spotting
How could travelers see the Geisha tradition in Gion? Let's start with watching them on streets. They sometimes walk to their daily practice or to a banquet at a tea house. There are two classes of Geishas, Maiko and Geiko. Maiko are young girls, an apprentice Geiko and wear a dangling obi belt and high sandals. Geiko are seniors, usually over 20, and wear no items of Maiko but do a wig. They sometimes appear in Gion and Miyagawa-cho dori street, but do more often in Miyagawa which is home to the second largest geisha community in Kyoto after Gion.
Geisha costume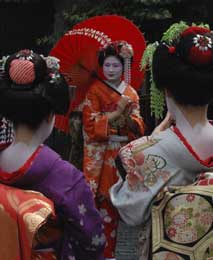 Ladies can be costumed like a geisha for hours using Geisha makeover services. There are about ten such services in Gion and Higashiyama district. You should choose one which is willing to have foreign tourists. Services are different from one shop to another but usually include several locations photography after wearing kimono, wig, and makeup, and then allow free time to hang around with the costume for an hour or so by paying extra. Prices are around 13,000 yen. Here are two recommendations: AYA (http://kyoto-maiko.com/English/) and SHIKI (http://www.maiko-henshin.com/english/) which have good reputations among Japanese girls. Advance reservation is necessary for any services.
Gion Corner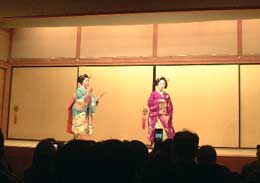 Another tourist attraction is the performances at the theater 'gion corner'. you'll see short demonstrations of japanese traditional arts such as tea ceremony, ikebana (flower arranging), koto (japanese harp) music, gagaku (ancient court music and dance), kyogen (noh comic play), kyomai (kyoto-style dance), and bunraku (puppetry). Each performance is performed by the professional artists and maikos appear on kyomai stage. The theater mainly target tourists. They give foreign tourists the English translation and the audio guide by other four languages. You can take photos during the performance. There is an informal atmosphere and tolerance for children noise. It's held daily at 7pm and 8pm from march to November (except aug.16) and only at 7 pm on every weekend of other months.
Gion Gorner's website: http://www.kyoto-gioncorner.com/global/en.html
Map