(This is a past event)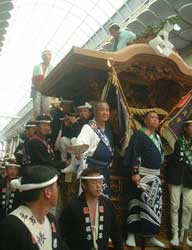 There are lots of festivals featuring Danjiri,or a portable shrine in Japan, but the one in Kishiwada is very famous for its dangerous performance. They tow Danjiri carts very fast on streets and sometimes crush at corners. Thirty four danjiri are taken around Kishiwada city and 600,000 people visit the city to view them during two days.
The festival was started three hundred years ago by the lord of Kishiwada castle to pray for a good harvest. Today, the festival is supported by the enthusiastic local youth groups who are proud of their tradition.
Members of each districts in the city wear uniforms and proudly pull their own Danjiri, running or walking in rhythm to the music of the flute, bell, and drums. The man called "daiku-gata" or a carpenter, is given honor of dancing on top of the Danjiri. To view Danjiri at the corners is most exciting because they try to turn at right angle without slowdown. There have been the dead and injured every few years.
You can also enjoy viewing Danjiri closely when it stops in front of you. It is large and heavy (about four tons!) and has elaborate carvings. At night, a lot of lanterns are lit and the parade proceeds slower on streets. There are stalls selling snacks and beverages on streets.
The date is September 15th (6am to 10pm) and 16th (9am to 10pm) 2012. Kishiwada city is in south Osaka, between Osaka city center and Kansai International Airport. From Osaka, you take Nankai Railway from Namba station and get off at Kishiwada station. It takes 25 minutes and cost only 480 yen. Danjiri come nearby the station, but the best spots for viewing are located 10 to 20 minutes walk away which are called Kankan-ba and Konakara-saka (next to the City Hall).
Map