Nara was Japan's ancient capital (710-84), predating its illustrious neighbor – Kyoto by 84 years. It was the country's first major administrative center and was called Heijo-kyo. The city design and governing system were based on Chinese standards and the Emperor had a great power to use Buddhism to rule the country.
Nara's reign as capital may have been short, but 1300 years of history have endowed it with many ancient temples and Shrines to savor (including 8 UNESCO World heritage sites). And despite pockets of urban sprawl, Nara has retained its rural character, allowing the exploration of temples in a more intimate and natural setting.
The major sites can be covered in a day trip. Most of the main temples are located in or around Nara Park, a short 15 minute walk from the city center and Nara Kintetsu station (20mins from JR Nara station).
Todaiji Temple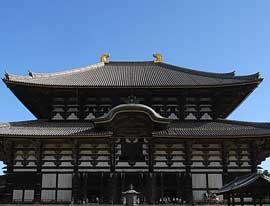 A fifteen-meter high bronze statue is placed in a fifty-meter high wooden building The construction was the state project ordered by the emperor Shomu in eighth century when Buddhism had an important role in governing people. The building was rebuilt in early 18th century after the destruction by fire, and the statue was restored in a large part. The south gate, built about 800 years ago with a pair of wooden statues, is also very large. After seeing in the main hall, you should not walk back to the gate but go up the gentle slope to another hall, Nigatsu-do on the hill. Then a path leads to the Kasuga Shrine.
Website:  http://www.todaiji.or.jp/
Kasuga-taisha shrine
Shinto shrine located on a hill, the approach is adorned with over 2000 stone lanterns on a winding walk through attractive woodland. It was founded in eighth century, hoping for the peace of the capital city, and later became the tutelary shrine of the powerful aristocratic family Fujiwara. The legend says the deity descended to the nearby mountain by riding on a deer.
Website : http://www.kasugataisha.or.jp/
Kofukuji Temple
Kofukuji Temple was founded in eighth century and served as a memorial temple for the spirits of departed members of Fujiwara family, the most influential aristocrat in relation to the Imperial family. There were so many temple buildings at the peak of its power, but many of them were destroyed in fire and wars. Tokondo hall, rebuilt in 15th century, houses Yakushi Nyorai Buddhist statue, and five-story pagoda, rebuilt also in 15th century, is the second tallest pagoda in Japan. The modern building next to Tokondo is the museum. Beautiful Buddhist statues and temple's treasures are displayed.
Website : http://www.kohfukuji.com/english
Nara Park and Deers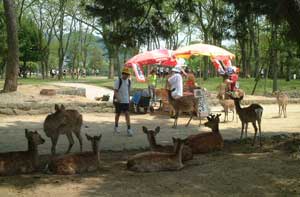 Nara park covers the large area (500ha) in the city and provides habitat for 1200 deers, raccoon dogs and squirrels. Deers are allowed to roam free. People buy deer crackers from local vendors and enjoy feeding them.
How to get to Nara
From Kyoto: Kintetsu Railway is better than JR in terms of fare and time, and it connects to the Kyoto city subway line without a transfer. Kintetsu Nara station is close to the tourist sites in the city. If you have a JR Pass and prefer to use JR line, choose a fast train coming twice in an hour, otherwise it takes more than hour to get to Nara by making every stops at stations. You have to walk about 15 minutes from the JR Nara station to the city center. When you go back to Kyoto, there are fewer fast trains in the evening. What is good about JR train is that you can stop at Inari station to visit Fushimi Inari shrine.
From Osaka: Kintetsu Railway is better than JR, but it depends where you leave in Osaka. If you plan to visit Horyuji Temple, you should take JR line.
Map