A shinto shrine, Fushimi Inari is unique, magical and highly recommended. Behind the vast central complex, thousands of gaudily colored torii gates snake upwards in crisscrossing paths over heavily wooded, 233 meter high Mt. Inari. Each gate bears the name of its donor – some are ancient and in need of repair, while some are more recent, attesting to the fact that this is a religion very much alive today.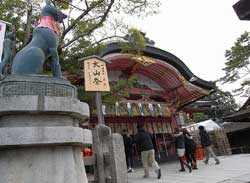 Founded in 711 and predating Heian Dynasty by more than 80 years, Fushimi is the head Inari shrine, of which there are approximately 30,000 in Japan. Inari shrines are instantly recognizable by their pairs of stone fox statues which keep guard. Inari is the Shinto goddess of rice, and the foxes are considered her messengers. Foxes are sacred beings in Japanese mythology, capable of changing shape and vanishing in an instant.
You cannot be said to have properly visited Fushimi-Inari unless you make the 2 hour trek up and around its mystic mountain. On the way up are numerous small sub shrines, each graced by the ever present fox motifs. There are also several tea houses, where you can purchase cups of hot sake (Japanese rice wine) which is the perfect tonic for those cold winter days!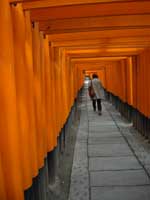 The trails are frequented by dog walkers, joggers, and pilgrims all year round and most will greet you with a hearty konnichiwa (good day) as they pass. The climb requires an element of fitness, especially in the humid summer. If you have only limited time or don't feel like walking a lot, you should go up as far as to the "Okuno-sha" shrine. The way up there is called "Senbon Torii" or thousand torii gates on which the most densely built toriis are lined.
The best way to experience Fushimi, however, is in quieter times – at dusk perhaps, when the tunnels of torii are lit up and, amid the stone monuments and under the watchful eyes of the stone foxes, the atmosphere becomes distinctly spooky. Be sure and give yourself plenty of time to get back before darkness falls!
In the New Year's day, Fushimi Inari is one of the most popular shrines in Japan for Hatsumode, or the "Year's first shrine visit". Amazingly, almost three million pilgrim's flock to Fushimi in the first 3 days of each year alone! During festive periods such as New Year, stalls line the approach to the main building, selling traditional snacks.
To get there take either the Keihan line from Kyoto or Osaka to Fushimi-Inari station, or the JR Nara line to Inari station. The shrine is a 5 minute walk from both stations.
Fushimi Inari Shrine's official website : http://inari.jp/ (Japanese)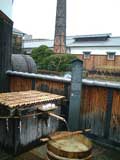 You may also like to take the connecting trail on to nearby Tofuku-ji temple. Alternatively, why not take the Keihan train for 15 minutes south to Chusyojima station and explore the sake warehouses of Fushimi town? The largest Sake brewery Gekkeikan is worth a visit.
Website : http://www.gekkeikan.co.jp/english/products/museum/
Map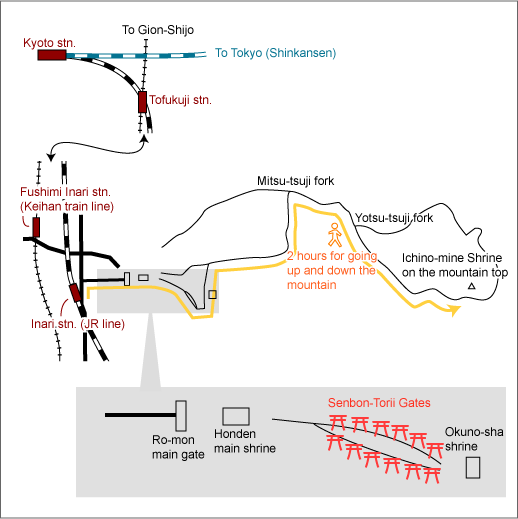 Practical help by our Free Guide
Based on the information hereabove and further knowledge of the Shrine and culture as Japanese people, our Free Guide can help you feel Fushimi Inari Shrine closer and deeper. If you like our help, please request our free guide.